Art Contest Submission
by Cassandra Holden and Jill St. Coeur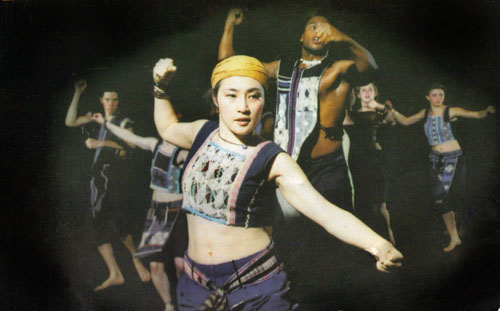 We are addressing the concept of sustainability as it relates to the design and production of clothing. The number and type of garments we choose to own as well as their initial manufacture and maintenance impact us on a daily basis.  Our goal is not only to provide information to the consumer about these issues but to present it in a novel and engaging way.  We intend to organize a runway show which showcases the myriad perspectives on "eco-fashion".  We encourage viewers and participants to examine their choices in a conscious and creative way.
Our project would have three major components.
We would design and construct garments which demonstrate unique solutions to the questions sustainability poses.  Elements to consider would include the re-use of existing materials, the possibility of employing manufacturing waste, the design of convertible, reversible, adjustable and/or expandable garments, and the selection of "hi-tech" materials vs. "natural" materials.  In addition we would also consider the impact of garment upkeep on the environmental footprint (laundering, dry cleaning, etc.).
In the process of researching sustainability as it related to design we would gather information about current materials, the availability of "green" fabric and clothing sources, the environmental impact of specific manufacturing choices, and so forth.  Our findings would be collected and made available to the public.  We would also include information about local resources, for example:  weavers, dyers, fabric and notion retailers, yarn and knitting suppliers.
The culmination of this project would be a runway show and exhibit.  Local residents, artists and students would be invited to submit their ideas for clothing designs as renderings or as actual garments.  Entrants would have access to our research findings to consider as criteria for their designs.   In addition to the finished garment or drawing the artist would be asked to write a brief statement detailing how the finished garment addresses the issues of sustainable design.  These statements would be contained in the show program.
Sustainability is a "goal".  There are many confusing and contradictory concepts within the "green" fashion movement.  There is great public appeal to using "natural", "sustainable" and "organic" materials.  However, the production and processing of these materials can sometimes carry a heavier environmental load than using synthetic and blended materials.  Our intent is not to tell consumers which choices and products are right or wrong but to provide information so that they may decide what makes the most sense within the context of their lives.
Our idea is to make clothing appealing, affordable, expressive, and practical. We would ask local clothing stores, drycleaners, designers and surface designers to contribute their knowledge of sources of more "green" suppliers and be more conscious in what they offer to the public.  We also encourage consumers to "make their own" instead of relying on large manufacturers and retailers exclusively.   Small businesses which supply fiber, fabric, notions, and other supplies would benefit as well as local artisans (dyers, hand weavers, knitters, spinners, felters, etc.) who create textiles and adornments.  .
The runway show would be staged at a local venue with high visibility such as the Center for the Arts or the new APE Space.  We would hope to have 20-30 entrants submitting garments and an equal number of renderings to display.
It is hoped that the show/exhibit would reach a large audience by being well advertised and open to the public.  By including students, artists, retailers, and fashionistas of all stripes, a broad spectrum of the community would be engaged.
Examples of my work can be seen on my website: cassandraholden.com
Click here to view additional images from my recent show at Skera Gallery. This show featured a number of restored and reworked vintage gowns as the blogpost describes.
"Buchasche", choreography by Pearl Primus performed by the Five College Dancers, 2002.  Costumes by Jill St. Coeur using vintage, reused materials and found objects
Jill St. Coeur – Bio
I hold a Master's Degree from the University of Massachusetts, Amherst in "Clothing and Human Behavior" and have held the position of Costumer in the Theatre Department at Smith College for 20 years.  In addition to working for Smith, I have designed and constructed costumes locally for the Five College Dance Department, Sorvino Dance, Candance Saylers, and Rodger Blum.  Nationally, I have worked with Yvonne Daniel, Jowalle Willa Jo Zollar of Urban Bush Women, The Talking Band of New York, and Florentine Films.  As a member of the Costume Society of America, Textile Society of America and the North American Textile Conservation Group I have been able explore costume design in an historical and cultural context.   Most recently I attended a conservation conference in Mexico City and in New Orleans where I participated in volunteer conservation work at the Jackson Barracks, a military museum damaged by Hurricane Katrina.  In 2002 I was involved in the mounting of "The Northampton Silk Project" exhibit at Smith College.  While serving on the Board of Directors at the Fiber Arts Center in Amherst from 2002-2004 I curated the exhibits "Haitian Voodoo Flags" and "Psychological Clothing" work by Kate Kretz.

Cassandra J. Holden Experience
cassandraholden.com
Education:
Smith College.  Northampton, MA.  BA anticipated January 2010.
MassArt.  Boston, MA.  2004-2005.
Alfred University.  Alfred, NY.  1991.
Practical Experience:
1998-present    Designer and Owner, Cassandra's.  Northampton, MA.
For the past ten years I have run a custom clothing design studio.  With the help of a team of talented stitchers, beaders, and embroideresses the shop has been building one of a kind garments for discerning clients nationwide.  In addition to clothing, I have been responsible for the creation of costumes, sculpture, and home decorating projects, as well as the restoration and renovation of vintage garments.  In recent years the shop has collaborated with a variety of local artists in a wide range of disciplines including Pat Hayes, Jane Herzenberg, Peter Dellert, Chris Nelson, Micala Sidore, Sarah Beth Atherton, David Hurwith, and Krisen Day.
Teaching Experience:
Summer 2007    Snow Farm,  Weekend Intensive in Fibers. Mobile making workshop for youth.
Fall 2007    Northampton Center for the Arts.  Pattern drafting: principles of flat pattern design.
Spring 2008    Northampton Center for the Arts.  Pattern drafting: creating a custom sloper.
Spring 2008    Northampton Center for the Arts.  Pattern drafting: creating a pants sloper that fits.
 
Selected Exhibitions and Events and Projects:
2008, April.  Custom Bridal Attire.  Skera Gallery, Northampton, MA.
Runway show of wedding attire featuring vintage elements and color. 
2008, January.  Project Runway.  Belchertown High School.  Belchertown, MA.
Panel judge and creation of internship opportunity for winning contestant.
2007, October.  Recent Custom Work.  Skera Gallery, Northampton, MA 
Runway show of custom clothing featuring formal attire, suiting, and costumes.
2007, September.  New Trends in Felt.  Fiberarts Center, Amherst, MA.
Group exhibition.  Collaboration with Christine White.
2006, October.  Basics.  Skera Gallery, Northampton, MA. 
Creation of a line of simple formal separates for the art-to-wear gallery.
2006, October.  Swamp Thing.  Daily Hampshire Gazette.  Northampton, MA.
Creation of original Halloween costume and directions for special segment for readers.
2005, July.  Screen.  UMass Medical Center, Worcester, MA.
Collaborative construction of printed screen with artist Peter Kitchell.
2004, November.  Mobile.  St. Joseph's Women's Hospital, Tampa, FL.
Collaborative construction of large scale mobile with artist Peter Kitchell.
2003, October.  Roadkill.  Skera Gallery, Northampton, MA.
Debut of a line of faux fur and irreverant wearables.
Professional Memberships:
Women Business Owners Alliance
Northampton Chamber of Commerce
Hampshire County Smith Club