The Vegan Bus Solar Installation   
by Derek Goodwin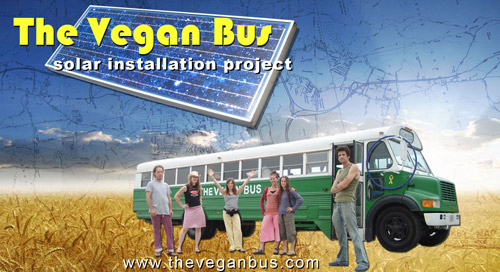 The Vegan Bus is an existing art project in process. I created the project in 2007 and now have a group of friends helping with various aspects of the project collectively. We have a full size school bus that has been converted to run on waste vegetable oil (WVO) using a specialized kit from local company Greasecar. Our objective is to use the bus to go to events and schools to teach people about alternative sources of sustainable energy. Along with the WVO technology we want to showcase solar energy by installing photovoltaic panels on the top of the bus that would charge a bank of deep cell batteries and store enough energy to run various appliances and devices.
From Concept to Final Work
A minimum 260-Watt solar photovoltaic (PV) system will be added to the bus. Two or more solar panels (rated for RV and Marine use) will run along the top front of the bus. They will connect to a deep cycle battery system below the bus that will store the energy. The batteries will output to an inverter that will translate the energy from the 12 Volt Batteries into 120 Volt power. From the inverter a wiring system will distribute the power to outlets on the bus to power lights, refrigeration, computers, and a PA system we will use in our outreach.
But Is It Art?
I believe it will take vast acts of imagination to transform our civilizations to conscious and sustainable ones. It is the mission of the artist to help people transcend their traditions and evolutionary inertias. The concept of The Vegan Bus came to me when I had the epiphany that I was dreaming too small. I realized that the world needed a vehicle of transformation. An artistic statement on wheels that would attract people by its very nature and leave them with something to think about. An artwork they could admire from the outside, or climb aboard and engage. Added to that a group of performers and activists to convey the Sustainable Message in a variety of ways.
The Sustainable Message
As the name implies, The Vegan Bus does not eat animals. In a November of 2006 report the United Nations found that "rearing cattle produces more greenhouse gases than driving cars". This message is becoming more prevalent in mainstream media and is only the tip of the melting iceberg when it comes to the unsustainable practices of modern animal agriculture. Our message is that we need to put sustainable energy not only into our homes, vehicles and appliances but also into our own bodies. As vast populations such as China and India become more industrialized it is imperative that we turn towards sustainability both in energy sources and consumption. The Earth cannot support billions more people living the current US lifestyle. To that end The Vegan Bus' mission is to promote solar and wind technologies, sustainable biofuels, and a plant-based diet.
 

Think Globally, Act Locally
As a citizen of Pioneer Valley I am committed to local outreach. The bus can travel to local events and schools to educate, and can also to transport local people to events near and far. With our network of musicians, dancers, hula hoopers and DJs we are able to have amazing local events that bring people together for fun while giving them an education at the same time. On any given day a giant school bus with solar panels will draw a crowd wherever it goes, and create a local buzz. I believe it will also be a presence in the Pioneer Valley that will inspire creativity and generate discussions around alternative fuels and a plant based lifestyle. With any luck it will even draw attention from the outside world to our progressive community.
More Information about The Vegan Bus Project at www.TheVeganBus.com
A description of The Vegan Bus WVO Conversion: http://theveganbus.com/about/wvo_conversion/
Experience
1995 BFA in Fine Art Photography at the Rochester Institute of Technology
1997 Studied a certificate program in Computer Multimedia at Monroe Community College
2000-present Proprietor of Derek Goodwin Photography in Northampton, MA
A Short Biography Of My Vegan Activism:
Derek Goodwin has been a vegan since 1996 and is an advocate of using art and media to promote compassion and a cruelty-free lifestyle. As a photographer he is known internationally for his photographs of sanctuary farm animals. In 2000 he started a web-based community for vegan artists called Veganica.com. In 2005 he began broadcasting an FM radio show and podcast about veganism called Vegan Radio out of Northampton, MA, which is now widely popular. Currently he is working on The Vegan Bus Project, which features a full-sized school bus that runs on waste vegetable oil and will be used to promote sustainable energy and a plant-based diet.

Recent Artistic Endeavors:
March 2008 "Heads 2 Hoops" exhibit at The Green Bean café in Northampton along with Megan E LaBonte.
June 7, 2008 Exhibit of cow photographs at The Twilight Tea Lounge in Brattleboro, VT
June 13, 2008 Farm Animal Photographs exhibited as part of the "Storefront Art Project" group show sponsored by local non-profit Commonwealth Center For Change (C3). Derek is a curator for the Storefront Art Project that will place art and artists into empty storefronts in Northampton, helping to enrich the culture of Pioneer Valley.