Streams of Light
by Leslie Cerier
lesliecerier.com
Brief Description of Submission: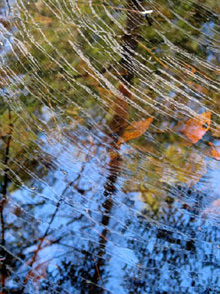 I propose to create a new series of impressionistic nature photographs and a new 3-minute digital story including these new images expressing the theme of sustainability.
A physics professor from Mount Holyoke College once told me upon viewing my work that I am photographing the natural refractory patterns of sunlight reflected over moving streams. These I call *jewels in the water and streams of light.
*I would carry on from *"Photographing the Jewels in the Water",* the impressionistic nature photography series and the digital story that I created last year.  Please view it on my website: lesliecerier.com
The grant/funds will give me the money needed for materials to print 8 new images on large cotton canvases about 20 inches by 28 inches, printed with natural pigment inks, pay the person with the equipment to make the digital story, who happens to live in my neighborhood. (I will support the local economy, walk to her house with my script and digital files.) No need for driving and burning gas. I would also like to use the funds to buy a new point and shoot digital camera with more meta-pixels to enable me to print even larger, and I will continue the search to find the right person/place to print my work on fabric. (I have a lead of someone in Ashfield, MA.)
The funds will also be used to post this new series of photographs along with the digital story on sustainability on my website. Pay for bringing the work to be shown in galleries in locations throughout the Pioneer Valley. I have shown my work at the Forbes Library, Northampton, MA (2006) the Jones Library's Burnett Gallery in Amherst (2007), and the Amherst Chamber of Commerce (2008). All venues would be happy for me to exhibit there again.
Using a point and shoot digital camera, printing the images on cotton canvases with pigment inks, I honor the earth and engage in sustainability by clicking my shutter when peak sunlight lights up the woods and shallow streams, sometimes using wind to move the water: natural energy.
No toxic chemicals are used to bring these images to life.
Most of these photographs are taken within walking distance of my Western Massachusetts home (another facet of the sustainability of this project). They are a celebration of the pioneer valley seen through the eye of my heart.
The sun calls me to a particular spot and I click the shutter when I see that rich, dancing light.
My photographs are about being so present in the moment that everything vibrates and shines. I see perfection in nature – patterns – artistic jewels that reveal themselves.
My photography is a reflection of the peaceful energy I find in the woods. Living in the moment, I capture beauty as I click the shutter.
These images can be looked at from different angles. There is no one right way to explore them. Please relax, take your time, have fun. I invite you to look for faces and figures; there are jewels in the water, and streams of light.