The SmartyPants Project 
by Lisa Ganci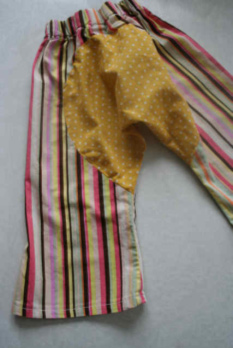 The Smarty Pants Project is art & industry woven together with an entrepreneurial ambition that is deeply rooted in social and environmental responsibility.
SmartyPants were designed specifically for the cloth-diapered babe, yet they look fabulous on all children ages 3 months to 3 years.  Each pair is a one of a kind combination of color, pattern & texture merged with design and function.  They are made from donated, recycled and/or vintage cotton fabric gathered from local sources.  What also makes these pants dance is that a portion of the proceeds will be donated to Rays of Hope, a rock your socks organization that gives so much to the families of the Pioneer Valley who are coping with cancer. 
This funky, trade-marked design incorporates a "butt-panel" that provide extra room for a diaper, and equally important, the panel creates a look that is so fun.  The waist is a simple 3/4″ elastic band for easy on/off action and comfort.  Each pair is assembled, by local folks, with a serger for durable high quality finished seams.
A true 'smartypants' is one who is committed, with every stitch, to being socially and environmentally responsible.  That's us!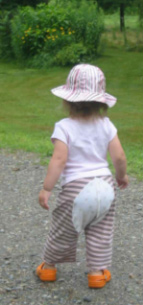 By using donated, recycled and/or vintage fabric, employing local folks, and generating a low-carbon footprint, I'm making clothing that, (much like local food is to a locavore), is sustainable and beautiful!   Starting with a pair of pants, this project is turning a little piece of the garment industry up-side-down by creating a beautiful children's line that is truly sustainable, practical, and affordable.
The idea for this project was born at the time my daughter Stella was 21 months old and I   was diagnosed with breast cancer.  Cancer turned my world upside-down as well as
inspired me to launch this dual-purpose mission, one that, already at such an early stage, has brought me great joy and a sense of purpose.  I turned to the sewing machine for comfort and have become a wild sewing-mama ever since!  As part of deepening my commitment to live more green, SmartyPants and my love of sewing are traveling down a unique path, one even richer in color and texture than I previously imagined.  Our goal is to succeed at operating a local endeavor that is steadfast in it's social and environmental initiatives.
 
 A sustainable clothing line for young children & the planet
 
I vow to generate a low-carbon footprint in the entire cycle of creating and selling SmartyPants and commit to initiatives that off-set what footprints I do make.  I promise to have fun, to dance in my pants and live by the motto of what it really means to be a smartypants living on this planet.
a few of my future goals and initiatives:
 
search for a source of new fabric that is truly sustainable (like organic bamboo but grown in the pioneer valley, hmm?)
convert our equipment over to wind-up sewing machines & sergers, (that is, if wind-up technology ever makes its way into the garment industry.)
on our super sunny property we will build a green sewing studio and warehouse.
purchase a bio-diesel vehicle for collection of fabric and delivery of orders.
increase my donations to other local agencies that do great things for the community.