Art of Sustainability Judges
Josh Simpson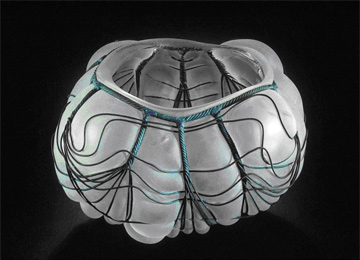 Josh Simpson first experimented with glass when he was a student at Hamilton College in 1970. Over the last 35 years, his art has evolved as he experimented and learned from making countless mistakes. He has found inspiration in NASA images of Earth and other celestial phenomenon.
While he has been successful creating unique goblets, vases and bowls, perhaps his greatest satisfaction is derived from his planets: luminous glass spheres encasing kaleidoscopic landscapes, underwater scenes and vistas of outer space that reflect the Earth's vastness and complexity. One of the Apollo astronauts glanced out of his spacecraft window on the way back from the moon and said "I can cover the Earth with my thumb." Josh captures that concept by creating planets that can be held in one's hand.
His latest project, creating the world's largest glass paperweight, was a commission from the Corning Museum of Glass. The making of this Simpson planet was the subject of the high definition PBS documentary Defying Gravity. Weighing 107 pounds, the planet became part of Corning's permanent collection in November 2006.
A 35 year retrospective, A Visionary Journey in Glass (1972-2007), opened at the Huntsville Museum of Art, Huntsville, AL in April 2007 to great acclaim. The exhibit is traveling the country until 2010.
Josh has devoted himself to mastering all aspects of glassmaking by designing and building his own furnaces and tools, learning glass chemistry to create a spectrum of colors, and mastering ancient techniques of blowing and forming.
His work is in the permanent collections of many museums including the Boston Museum of Fine Art, the White House Collection of American Crafts, and the Museum of Decorative Arts, Prague. Most recently the Huntsville Museum of Art has honored him with a 35 year retrospective exhibit. Josh has had one-man shows all over the world, has taught at schools, museums, and workshops, and has had a lot of fun along the way.
---

Hillary Price
www.rhymeswithorange.com
Rhymes With Orange has been syndicated since 1995 and the strip appears in newspapers internationally.  In 2006, the strip was awarded "Best Newspaper Panel" by the National Cartoonists Society.   Her latest collection of cartoons, titled "Pithy Seedy Pulpy Juicy" is now available in stores.  Hilary moved to the Pioneer Valley in 1998.  She lives with her partner Kerry LaBounty and several drooly animals.
---
Gina Beavers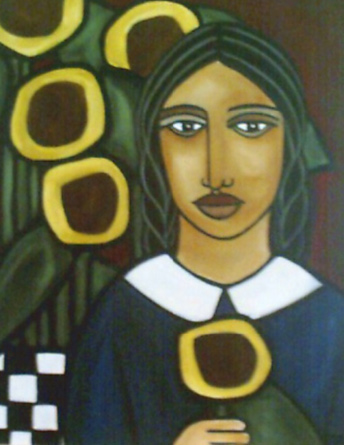 African-American artist Gina Beavers grew up in Northern Ohio and now lives in Springfield, Massachusetts. She received her Bachelors degree in American History from the University of Pittsburgh and her Masters in the same subject from the University of Massachusetts at Amherst. Always an artist at heart, Beavers' artwork is influenced by a myriad of artists–Mexican muralist Diego Rivera, however, is her favorite. Her paintings are a celebration of women posed in storybook settings, surrounded by peace and contentment.
---

Daniel Ross, Executive Director
Nuestras Raíces, Inc.
329 Main Street
Holyoke, MA 01040
(413) 535-1789
dross@nuestras-raices.org
www.nuestras-raices.org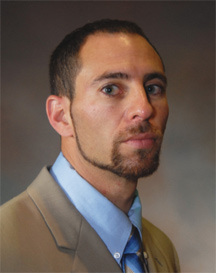 Recognized as a world-leading social entrepreneur with a lifetime fellowship from Ashoka – Innovators for the Public Good.  11 years as Director of Nuestras Raíces, a grass-roots organization to promote economic, human and community development in Holyoke, Massachusetts through projects relating to food, agriculture and the environment.   During this time the organization has developed an extensive network of community gardens, a youth farming and leadership program, an environmental justice program, an organic artisan bakery, beginning farmer training and incubator program with 30 acres of fertile farm land, and constructed the Centro Agrícola for community education and business development.  He has helped community members start over 20 sustainable small food and agriculture businesses.  Founding leader of the Holyoke Food & Fitness Policy Council (awarded a $4.5 million WK Kellogg Foundation grant in 2007), the Holyoke Youth Task Force and the Pioneer Valley Environmental Coalition (funded by the US EPA).  He has previous experience working with community health clinics in New Jersey, Florida and Massachusetts to develop migrant farm worker outreach programs with the East Coast Migrant Health Project.    Winner of the Do Something Brick Award for Community Leadership in 1999, Environmental Recognition from the City of Holyoke Conservation Commission in 2001, recognized for Leadership by the WK Kellogg Foundation.  Husband and father of 3 children, marathon runner and youth soccer coach.
---
David Starr, Community Organizer
CO-FOUNDER 2008
GREEN Northampton
Green Action in Northampton
Northampton Schools Cooperative
Local Organizer
Earth Hour '08
BUSINESS EXPERIENCE
CURIOUS PICTURES                   
Co-founded, marketed, managed  $35 MM entertainment company in NYC & SF TV production, animation production, advertising agency, toy company Over 200 employees
www.curiouspictures.com
largest animation production company in US outside of California film directors  in California, Oregon, Toronto, NYC & UK supervised offshore production in Korea, Taiwan, China, India, Italy, Canada
Executive Producer for Television Series
The Offbeats
Nickelodeon
Sheep in the Big City
Cartoon Network
A Little Curious
HBO
CODENAME: Kids Next Door
Cartoon Network
Lavazza:  Caballero & Carmencita
Channel Sei in Italy
Six Movies for Mattel
DTV
Executive Producer of Four commercial films in the permanent collection of the Museum of Modern Art

BOARD OF TRUSTEES
Eric Carle Museum of Picture Book Art    (current)
---
Chris Delmonte "Monte"
Monte is the voice of the WRSI radio "Green Team"—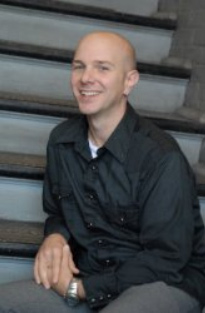 "Our goal is to use our airwaves and our website to foster a conversation on how to make our environment cleaner, safer, and more sustainable. By learning from one another, putting these ideas into practice, and by taking part in community cleanup actions, our hope is to make out Valley and our World greener."
---
John Majercak—Director Center for Ecological Technology (CET) Re-store in Springfield

John Majercak is the founder and Director of the ReStore Home Improvement Center.. The ReStore is an enterprise of the Center for Ecological Technology (CET), where John is Associate Director. He has been employed there since 1991 and oversees project development and management, communications, development and strategic planning for CET. John has developed a variety of award-winning reuse, composting and recycling projects. He has contributed articles to nationally distributed trade journals including Resource Recycling and BioCycle magazines. John currently serves on the Board of Directors of the Building Materials Reuse Association and the Massachusetts Department of Environmental Protection's Organic Waste Advisory Committee. Past experience includes research and development in the bio-technology industry and work as a National Park Ranger in Wyoming and Hawaii. John received a B.A. in Biology from Cornell University.
---
Kristen Beam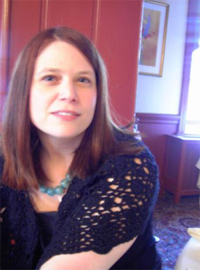 Kristen is a ten-year resident of the Pioneer Valley. She came here as an AmeriCorps volunteer in 1998 – organizing clean-ups near local rivers and educating kids about watersheds, vernal pools and wetlands. Today, she makes her living as a Senior Producer at MassLive.com, where she has worked since 2003. She carpools to work with her fiance, in their fuel-efficient Honda Fit.
---
Rus Peotter, Vice President and General Manager, WGBY
Rus Peotter is responsible for the management of WGBY Springfield, the WGBH-affiliated public television station serving western Massachusetts, northern Connecticut and southern Vermont. He oversees all station functions including programming, production, development, engineering, and administration.
Peotter came to WGBY in 2001 from Maine Public Broadcasting, where he was in charge of the station's fundraising, promotion, outreach, and audience service efforts since 1992. He has served on numerous PBS national committees, helping senior PBS management develop policies and services in support of stations across the country.